Latest News
EXECUTIVE APPOINTMENT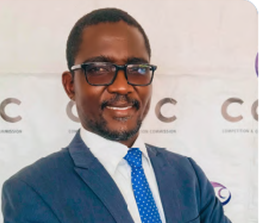 MR. BRIAN MULETAMBO LINGELA
The Board of Commissioners of the Competition and Consumer Protection Commission (CCPC) is pleased to announce the appointment of Mr. Brian Muletambo Lingela as Executive Director of the Commission effective 15th June, 2023.
Mr. Lingela has 22 years of progressively professional experience in the media, non-governmental and public sectors in Zambia, 15 of which are at senior management level. Over the last 14 years, Mr. Lingela has served as Director Consumer and Public Relations, Director Consumer Protection, Director Mergers and Monopolies and Director Cartels and Restrictive Business Practices at the Commission. He has also served as Zambia's designate for Consumer Protection for the United Nations Conference on Trade and Development (UNCTAD) for many years and is currently the Vice Chairperson of the Board of Commissioners for the COMESA Competition Commission (CCC).
Mr. Lingela holds a Master's Degree in Development Communication and a Bachelor's Degree in Mass Communication and Public Administration from the University of Zambia.
As he leads the Commission, the Board, Management and Staff wishes him success and assured support as he steers the Commission, Zambia's primary advocate for competition and consumer protection to higher heights.